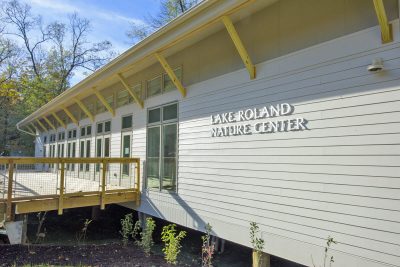 The Lake Roland Nature Center provides year-round education and meeting space with a central location near the center of the park.
The Center has classroom, educational and meeting space with audio/visual capabilities, plus support space. The main space of the Center can be divided into two sub-spaces. Occupancies can range from 100 people standing, 60 people for lecture seating, and approximately 40 people for a classroom set up. Overall facility capacity including porch is 280.
The Center allows the County and the Nature Council to provide year-round education, arts and crafts, and event programming with access for special needs and handicapped participants. Its strategic location and proximity to the existing boardwalk further enhances its "transit oriented nature" — directly accessible from the Mass Transit Falls Road Light Rail Station via a raised boardwalk — the first of its kind in the Baltimore metro area.
One key design feature of the Center is that the front elevation facing the dam is comprised of a series of operable glass doors allowing activities to extend onto the deck that provides year around views of the Lake Roland Dam and also allows for increased outdoor educational programs.
The 2,594 square foot Lake Roland Nature Center is a green focused project utilizing renewable construction materials and a minimal environmental footprint. The Nature Center has won the prestigious Associated Builders & Contractors Award of Merit.
Virtual Tour of the Lake Roland Nature Center

The Lake Roland Nature Council has witnessed firsthand young people from the inner city and the greater metropolitan area being exposed to wildlife for the first time in their lives in the Nature Center, a place that can change lives and transform young and old alike into nature enthusiasts. The Nature Center is not just a physical space, it offers a vibrant environment for experiences that were not possible before the building's construction. In addition, the Nature Center is further enhanced by the Nature Center Trail located to the rear of the building.
(L to R) Lake Roland Nature Council treasurer Jeffrey Budnitz, Baltimore County Executive Johnny Olszewski, and Deputy Director Recreation and Facilities Operations at Baltimore County Department of Recreation and Parks Bob Smith
"The Lake Roland Nature Center has been an incredible resource for our community, particularly as more people sought outdoor experiences during the pandemic. I want to thank the Lake Roland Nature Council, which has officially fulfilled their financial commitment for this valuable project. We look forward to building upon this success, to be enjoyed by generations to come."
~ Johnny Olszewski
(Baltimore County Executive)